Most hydraulic/transmission failures are caused by contamination or breakdown of the hydraulic fluid. Excess heat is a major enemy of hydraulic/transmission fluids. Non-synthetic hydraulic fluids are likely to oxidize when exposed to the extreme environment of tractor transmissions and hydraulic systems. Oxidation leads to the formation of acids, varnish and sludge deposits. This can thicken oil, reduce lubricating abilities, accelerate wear, damage hoses and lead to further overheating and catastrophic component failures.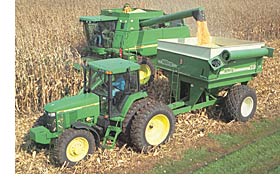 AMSOIL Hydraulic/Transmission Fluid (ATH) is made up of thermally stable and chemically resistant synthetic base stocks, and premium quality additives.
AMSOIL ATH is highly resistant to heat breakdown and chemical changes. It is a better "carrier " for heat transfer, so equipment runs 20° to 50° cooler. All of this means more efficient and economical operation, with less maintenance and profit-stealing downtime.
The durability of AMSOIL ATH allows drain intervals two to three times longer than those of conventional fluids. This saves time, effort and money because you buy fluid less often. Cooler operation with AMSOIL ATH increases fuel economy and equipment life, especially for hoses, which are susceptible to heat damage.
AMSOIL ATH also provides superior protection against rust and corrosion, a critical form of protection during equipment storage.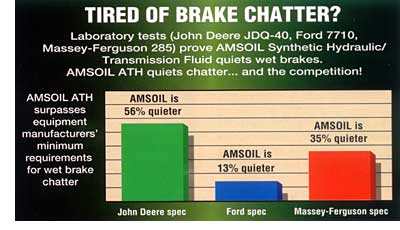 AMSOIL Multi-Purpose Synthetic Hydraulic/Transmission Fluid is specifically designed for outstanding performance in modern farm tractors and hydrostatic drive machinery.
Whether it is used in the transmission, final drive or in the hydraulic system, AMSOIL ATH delivers superior protection and service: better lubrication for less wear, more positive control and reliability; longer service life for cost savings (in replacement fluid and time spent away from the field); vastly superior cold and hot temperature performance for easy cold weather start-ups, faster warm-ups and overall cooler operation.
AMSOIL Multi-Purpose Synthetic Hydraulic/Transmission Fluid is available in quarts,5-gallon pails and 30-and 55-gallon drums.