Harley-Davidson Confirms To AMSOIL That The Use Of Synthetic Motor Oils Other Than Harley-Davidson Oil Does Not Void Warranty Coverage - warranty addendum

AMSOIL's Recommended Oils for All Harley Davidson Models
Harley-Davidson/AMSOIL Oil Chart

Flathead
Best

Secondary

Alternate
Engine
AHR
MCV
--
Knucklehead
Best
Secondary
Alternate
Engine
AHR
MCV
--
Panhead
Best
Secondary
Alternate

Engine

AHR
MCV
--
Shovelhead
Best
Secondary
Alternate
Engine
AHR
MCV
--
Evolution 1340 - Big Twins 1450 - Revolution / V-Rods
Best
Secondary
Alternate
Engine
MCV
--
--
Ironhead - Evolution Sportsters
Best
Secondary
Alternate
Engine, Transmission / Chain Case
MCV
--
--
Harley Davidson has manufactured 9 types of engines from 1929 to the current model. Flathead (1929-1974), Knucklehead (1936-1947), Panhead (1948-1965), Shovelhead (1966-1984), Evolution (Blockhead) 1340 (1984-1999), Big Twins 1450 (2000 to current), Revolution/V-Rod (2001 to current) Ironhead Sportsters (1957-1984) & Evolution Sportsters 1985 to current.
Harley Davidson recommends SAE 50 or 60 for the engine oil in their Flathead, Knucklehead, Panhead, and Shovelhead. AMSOIL recommends AHR SAE 60 or MCV 20W-50 motorcycle oil for all these older models. Use AMSOIL SVG or SVO for the transmissions. Of these models only the Shovelhead has a chain case that is lubed, and is fed by the engine oil.
In the Evolution 1340, Big Twins 1450, and V-Rods, AMSOIL recommends MCV 20W-50 motorcycle oil in all 3 holes (engine, transmission, and primary chain case). AMSOIL recommends SVG as an alternative oil for the transmission, and SVO as an option for older transmissions. New seals are recommended where excessive leaking exists.
Ironhead & Evolution Sportsters use one sump for both transmission and chain case. AMSOIL recommends MCV motorcycle oil for this common sump.
AMSOIL Synthetic Motor Oils for Harley Davidsons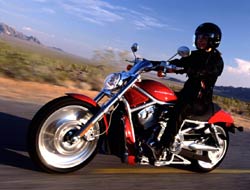 AMSOIL Synthetic Motorcycle Oils are formulated with premium synthetic base stocks and high performance additive technology that provide superior multi-functional benefits for the special requirements of motorcycle applications. These independent and exclusive AMSOIL formulations provide second-to-none viscosity protection for hot-running Harley Davidson engines, transmissions and primary chaincases.
The high temperatures and tight tolerances common to motorcycle applications also affect viscosity. The High Temperature/High Shear (HTHS) Test (ASTM D-4683) measures a lubricant's viscosity under severe high temperature and shear conditions. The more resistant an oil is to high temperature viscosity loss, the better it protects, and even a HTHS difference of 0.1 cP makes a significant difference.
AMSOIL Synthetic Motorcycle Oils exhibit the highest HTHS viscosities of competing synthetic and conventional motorcycle oils. They provide the best high temperature viscosity protection, giving motorcycle owners peace-of-mind during extensive idle times or when riding in hot weather conditions.
EXCELLENT WET CLUTCH PERFORMANCE
Many motorcycles utilize a clutch that is immersed in the motor oil. The friction modifiers present in many automotive motor oils and the extreme pressure additives present in EP gear lubricants produce a low coefficient of friction between the clutch discs and plates, resulting in clutch slippage and glazing. Slippage leads to increased operating temperatures and reduced clutch life. AMSOIL Synthetic Motorcycle Oils are formulated without friction modifiers, providing positive clutch engagement, longer equipment life and reduced temperatures. AMSOIL Synthetic Motorcycle Oils meet the clutch compatibility requirements mandated by JASO MA.
EXCELLENT CORROSION PROTECTION
Most motorcycles spend the majority of their lives either parked or in storage, but most motorcycle oils fail to address corrosion problems. Corrosion protection during storage and in humid conditions is essential to extending equipment life. AMSOIL Synthetic Motor-cycle Oils are formulated with specialized additive technology that not only protect against corrosion and acids during operation, but also provide exceptional protection during storage. The ASTM D-1748 Rust Test measures a lubricant's ability to protect against rust and corrosion. A standard metal reference coupon is immersed in the test oil before being placed in a humidity cabinet for 24 hours at 120 degrees F. As seen in the photos, the reference coupon treated with AMSOIL 20W-50 Synthetic Motorcycle Oil showed no signs of rust and corrosion, while the competitor failed the test.
OUTSTANDING HEAT RESISTANCE
Motorcycles operate in demanding, high heat conditions that require robust high temperature deposit control additives. While many conventional oils break down and oxidize when faced with high temperatures, causing formation of carbon and sludge deposits, AMSOIL Synthetic Motorcycle Oils effectively withstand oil breakdown and oxidation, keeping equipment running cooler and minimizing oil consumption, thickening and emissions. Air-cooled engines get especially hot while idling in traffic, commonly reaching temperatures of 270 degrees Fahrenheit or higher. The extra margin of protection provided by AMSOIL Synthetic Motorcycle Oils is especially important for hot-running air-cooled motorcycle engines.
FOAM CONTROL
High engine speeds and transmission gears in motorcycles churn the oil, suspending air and causing foam. When this oil and air mixture is drawn into a loaded area, the air compresses and decreases the thickness of the oil film, compromising wear protection. In addition, suspended air promotes oil oxidation, reducing its service life. AMSOIL Synthetic Motorcycle Oils provide outstanding foam control and are formulated with anti-foam agents that allow for quick air release. They provide long term lubricating protection in high speed, high RPM conditions.
UNSURPASSED WEAR PROTECTION
The Four Ball Wear Test (ASTM D-4172) determines the wear protection properties of a lubricant. The smaller the average wear scar, the better the wear protection provided by the lubricant. AMSOIL Synthetic Motorcycle Oils produce significantly smaller wear scars than competing motorcycle oils, providing unsurpassed protection against engine wear, reducing maintenance costs and extending equipment life.
COST EFFECTIVE
AMSOIL Synthetic Motorcycle Oils provide excellent cost effectiveness and are cost competitive with competing high end motorcycle oils. The unmatched protection and performance provided by AMSOIL Synthetic Motorcycle Oils is excellent insurance for your Harley Davidson.