AMSOIL Ea Motorcycle Oil Filters for Harley Davidsons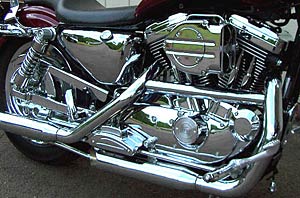 AMSOIL INC. revolutionized the filtration industry with its introduction of AMSOIL Ea Air and Ea Oil Filters. For the first time exclusive nanofiber technology – the same technology used in the Abrams M1 tank and other heavy duty applications – was made available for automotive applications. Now, AMSOIL has made this outstanding new technology available for motorcycles.
Ea Motorcycle Oil Filters
Ea Motorcycle Oil Filters feature a specially constructed silicone anti-drainback valve and a nitrile sealing gasket to go along with the full-synthetic Ea nanofiber media. The anti-drainback valve provides excellent protection during startup and remains flexible in all temperatures, and the nitrile sealing gasket resists chemical breakdown, providing excellent durability and ensuring long filter life. AMSOIL Ea Motorcycle Oil Filters are fluted for easy removal from the motorcycle and are available in a chrome-plated alternative to the normal black filters.
AMSOIL Motorcycle Air Filters (EaAM) for Harley Davidson Applications
With the exception of S&S (EaAM22 and EaAM23) and Baron Big Air (EaAM24) aftermarket replacement filters, all AMSOIL Harley Davidson Air Filters are designed for OEM fit. At this time, AMSOIL does not offer replacement filters for Harley Davidson Screamin' Eagle Stage I, II, or III kits that offer part numbers 29442-99A, 29442-99B, 29442-99C, and 29055-89. In addition, the following models have Screamin' Eagle intake systems installed as an OEM option, but are not available from AMSOIL:
2005 FLSTFI 1550 Fat Boy F/I 15th Anniversary
2003-2004 FXSTDSE 1550 Screamin' Eagle Softail Deuce

2005 FLSTFSE Screamin' Eagle Fat Boy
Prior to ordering an AMSOI EAM Air Filter for your Harley Davidson, please check your application to determine if a Screamin' Eagle kit has already been installed. If further assistance is required please contact AMSOIL at 1-877-218-7479.