AMSOIL Synthetic Gear Lubes keep truck and heavy equipment differentials and EP gear lube equipped transmissions running clean, protected and at top-efficiency.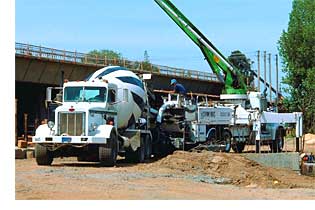 AMSOIL synthetic gear lubes are formulated to protect gears operating in heavily loaded conditions, whether or not the gears operate with full film lubrication. Superior film strength and viscosity retention offer superior portection in full film regimes, while top-quality extreme pressure agents protect when a full lubricating film does not separate gear surfaces.
The thermal durability of AMSOIL synthetic gear lubes ensures extreme pressure protection after extended exposure to extreme temperatures. The extreme pressure agents in conventional gear lubes sometimes lose their effectiveness after extended exposure to high temperatures, leaving gears vulnerable to metal-to-metal contact and wear.
Cost-Cutting Lubrication for Transmissions and Differentials
Owner/operators look to safely cut costs wherever and whenever possible. Improving drive train efficiency is one easy way to save money, and AMSOIL Synthetic Gear Lubes will deliver maximum efficiency for the best savings.
Lower Costs by
Reducing Friction
Transmissions and differentials are highly susceptible to the energy-robbing effects of friction and drag. Energy loss translates directly into loss of power and fuel economy. These effects become more pronounced as payload weights increase. AMSOIL Synthetic Gear Lubes permit mechanical components to move with less resistance and greater efficiency, even under heavy loads, than conventional lubes do. The result is maximum power transmitted to the wheels and the most efficient use of fuel.
Reducing Wear
AMSOIL Synthetic Gear Lubes' outstanding anti-friction properties reduce wear. AMSOIL Synthetic Gear Lubes coat precision gear surfaces with a tough, protective film of lubricant that keeps wear at an absolute minimum. The important benefits for truck owners are greater equipment reliability and less money spent on replacement parts and repairs.
Reducing Heat
In addition, by reducing friction so substantially, AMSOIL long-life gear lubes allow transmissions and differentials to run much cooler than they do with conventional lubes. By keeping temperatures lower, AMSOIL Gear Lubes further extend the lives of mechanical components. AMSOIL Synthetic Gear Lubes have superior thermal stability and thermal durability. Both features increase gear life and enhance lubricant longevity. High thermal stability reduces deposits and sludge in sustained high temperature service. High thermal durability reduces or eliminates surface distress, such as ridging, rippling, pitting and spalling.
All-Season Formulations
AMSOIL Gear Lubes are designed to perform in extremely hot or cold conditions. AMSOIL flows readily at low temperatures for easy shifting and smooth, efficient performance. AMSOIL resists all types of thermal degradation including oxidation, thickening, and the formation of harmful deposits. AMSOIL Gear Lubes remain stable in the heat for cost-effective, long-term gear lubrication.
Extreme-Pressure Protection
AMSOIL Synthetic Gear Lubes contain highly effective extreme pressure additives for protection of gear surfaces operating without benefit of a full oil film. For example, due to their geometry, portions of the right angle gears in differentials don't maintain a full oil film between meshing surfaces. For wear protection, those gears depend on extreme pressure additives, which chemically interact with their surfaces to create a shield against metal-to-metal contact. Compared to the extreme pressure additives found in other gear lubes, AMSOIL Synthetic Gear Lubes' high quality extreme pressure additives increase component durability by offering higher temperature gear surface protection, better oil seal compatibility and greater protection against corrosion.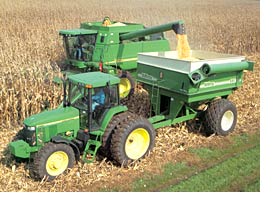 SEVERE GEAR ™ Synthetic Extreme Pressure Gear Lubes (75W-90, 75W-110 & 75W-140)
Specially formulated for severe duty applications, AMSOIL SEVERE GEAR ™ Synthetic Extreme Pressure Gear Lubes are excellent for vehicles that experience towing, hauling, steep hill driving, commercial use, racing, off-road use, rapid acceleration, stop and go driving and high ambient temperatures. AMSOIL SEVERE GEAR ™ Gear Lubes are formulated with increased levels of premium quality additives, allowing improved limited-slip and locking differential performance.
And with high viscosity indices, SEVERE GEAR ™ Gear Lubes provide an extra level of protection at high temperatures. Extra additives provide additional insurance against wear in case of a lubricant film breach. These additives provide an iron sulfide barrier coating that effectively prevents micro-welding that leads to heat and friction. This allows AMSOIL SEVERE GEAR ™ Gear Lubes to prevent thermal runaway, a phenomenon caused by a lubricant 's inability to control friction and increased heat under high-stress conditions. By preventing thermal runaway, AMSOIL SEVERE GEAR ™ Gear Lubes inhibit component damage and rapid lubricant degradation.
SEVERE GEAR ™ Synthetic 75W--90 Gear Lube (SVG) replaces Series 2000 Synthetic 75W-90 Gear Lube (TGR).
SEVERE GEAR ™ Synthetic 75W--140 Gear Lube (SVO) replaces Series 2000 Synthetic 75W-140 Gear Lube (TGO).
Long Life Synthetic Gear Lubes (75W-90 & 80W-140)
AMSOIL Long Life Synthetic Gear Lubes are formulated with new and enhanced additives designed specifically for extended drain intervals of up to 500,000 miles in over-the-road trucks. Long Life Synthetic Gear Lubes are engineered to protect gears better than conventional gear oils, resisting acid, carbon and varnish formation and oxidative breakdown. Their superior shear stability allow them to maintain their viscosity during extended service. The enhanced 80W-140 formulation replaces the former 85W-140 formulation, allowing a greater operating range and improved cold temperature performance. AMSOIL Long Life Synthetic Gear Lubes are available in five gallon buckets, excellent for use with lube dispensing pumps.
Long Life Synthetic 75W-90 Gear Lube (FGR) replaces Synthetic 75W-90 Gear Lube (AGR). Long Life Synthetic 80W-140 Gear Lube (FGO) replaces Synthetic 85W-140 Gear Lube (AGO).
80W-90 Synthetic Gear Lube
The 80W-90 gear lube market is mineral oil based. New reformulated AMSOIL 80W-90 Synthetic Gear Lube is designed as a high quality synthetic replacement for mineral gear oils. It is a multifunctional product designed to surpass the requirements of equipment and automotive applications calling for an SAE 80W-90 viscosity grade. Its naturally high viscosity index and shear stable construction provide improved cold temperature performance, while extreme pressure additives provide excellent protection for gears and bearings. AMSOIL 80W-90 Synthetic Gear Lube is competitively priced, making it an excellent choice for cost conscious customers.