Series 2000 Synthetic 20W-50 Racing Oil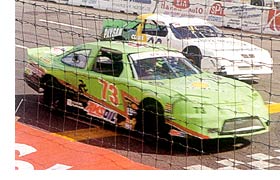 Series 2000 Synthetic 20W-50 Racing Oil provides increased power and better wear protection than any other leading racing oil! Dyno and Wear Tests Prove AMSOIL Best
NASCAR professionals dyno-tested this new oil and found it reduced friction and drag enough to deliver two to four more horsepower in a high performance racing engine. More power output means more speed on the race track.
Industry accepted wear tests performed by an independent testing lab prove AMSOIL Series 2000 Racing Oil reduces wear better than any of the leading racing oils. AMSOIL provides better wear protection.
Nothing compares to AMSOIL Series 2000 Synthetic 20W-50 Racing Oil in high performance engines.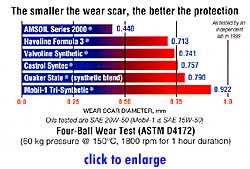 AMSOIL SAE 60 Synthetic Super Heavy Weight Racing Oil
AMSOIL SAE 60 Synthetic Super Heavy Weight Racing Oil is designed for high horsepower racing engines, typically supercharged and alcohol-burning or nitro-fueled, and requiring a high viscosity oil to resist the thinning effects of fuel dilution.
AMSOIL Synthetic Super Heavy Weight Racing Oil is formulated specifically for wear protection and friction reduction in the extreme service conditions of racing. It has been proven on-track to bring down high engine oil sump temperatures by 20 degrees F, which speaks directly to its ability to reduce friction, promote power and inhibit wear.

AMSOIL Introduces Signature Series Synthetic 0W-30 Motor Oil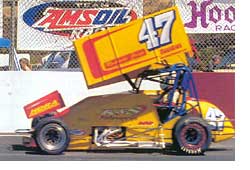 AMSOIL INC. of Superior, Wisc. has introduced a premier motor oil with a new, personal image. Supplemented with a proprietary ashless antiwear system for improved heat and viscosity control and boasting a 10 percent increase in TBN (13.2), new Signature Series 0W-30 sets the standard for protection and performance. Personally endorsed by AMSOIL founder and president Al Amatuzio, each bottle bears his signature and describes how he developed the first API qualified synthetic motor oil, thereby launching the synthetic motor oil industry.
Engineered with the world's finest synthetic base oils and high performance additives, the exclusive extended drain formulation delivers superior engine protection and maximum fuel economy. AMSOIL Signature Series 0W-30 is a premium grade synthetic motor oil that exceeds the requirements of modern, high-performance engines and older engines, replacing other 0W-30, 5W-30 and 10W-30 motor oils.
Maximizes Fuel Efficiency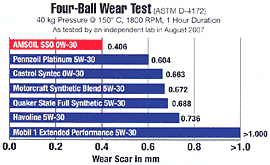 The lightweight molecular structure of AMSOIL Signature Series 0W-30 Synthetic Motor Oil reduces energy loss from the "drag" common to high viscosity oils.
Reduces Wear
AMSOIL Signature Series 0W-30 Synthetic Motor Oil contains specialized anti-wear technology so that engines last longer.
Resists Heat, Reduces Oil Consumption and Emissions
AMSOIL Signature Series 0W-30 Synthetic Motor Oil is thermally stable with a strong resistance to high temperature volatility (burn-off).