AMSOIL Introduces Ea Oil Filters with Nanofiber Technology!
Another Revolutionary Step for Automotive and Light Truck Applications

AMSOIL INC. of Superior, WI announces the introduction of its new Ea Oil Filter line featuring advanced full synthetic nanofiber technology. The new Ea Oil Filters tout improved lubricant flow, improved cold-start performance, reduced operating costs and extended service intervals. AMSOIL Ea Oil Filters are the highest efficiency filters on the market for automotive and light truck applications.
AMSOIL is the first in the industry to offer a full synthetic media in a cartridge style filter. The Ea synthetic media is made of fibers with a controlled size and shape that are significantly smaller in diameter than conventional filters. Extensive testing shows that AMSOIL Ea Oil Filters provide a near perfect absolute efficiency rating.
Development of this new filter involved partnerships with global filtration industry leaders. The collaborative effort was orchestrated by AMSOIL with the aim of producing a filter unsurpassed in efficiency and service life.
Benefits include:
• 25,000 miles or one year service life in cars and light trucks
• Higher capacity than competing filter lines
• Excellent flow characteristics
• Reduced engine wear
• Certified OEM fitment
The filters also feature fully tucked seams, a molded element seal, roll-formed threads and a long-lasting premium grade silicone anti-drain valve.
Fast Fact: A nanofiber is less than one micron in diameter. A human hair is 80 microns.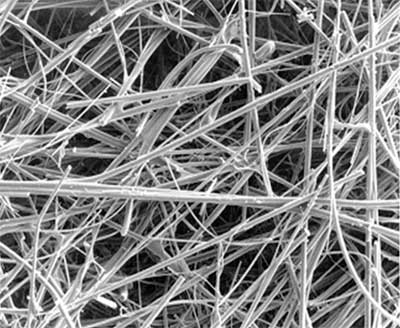 Above:

Advanced Full Synthetic media. Small, consistent fibers trap smaller and hold more contaminants: restriction is lower.