AMSOIL PowerSports Air Filters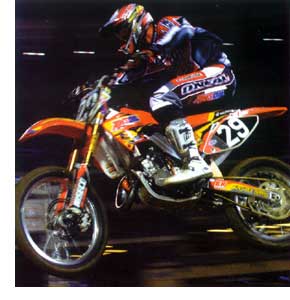 AMSOIL PowerSports 2-Stage Air Filters provide superior performance in all three critical areas of filtration: Efficiency (dirt-stopping), Capacity (dirt-holding) and Resistance (air flow).
AMSOIL PowerSports 2-Stage Air Filters are uniquely designed to hold wear-causing dirt while allowing only clean air for better performance, better fuel economy, lower exhaust emissions and longer engine life. Also, AMSOIL PowerSports 2-Stage Air Filters are washable and reusable for numerous hours of trouble-free service.
AMSOIL PowerSports 2-Stage Air Filters are especially designed for PowerSports such as ATV's and Dirt Bikes. The filters feature two distinct layers of oil-wetted polyurethane foam, which provides a network of interlocking cells that trap particles primarily on the surface, yet allow a constant flow of clean intake air for outstanding engine protection and performance.
AMSOIL Ea Motorcycle Air Filters
AMSOIL INC. revolutionized the filtration industry with its introduction of AMSOIL Ea Air and Ea Oil Filters. For the first time exclusive nanofiber technology – the same technology used in the Abrams M1 tank and other heavy duty applications – was made available for automotive applications. Now, AMSOIL has made this outstanding new technology available for motorcycles.
The filtration media in the Ea Motorcycle Air Filter is pleated and has epoxy-coated wire on the face and back of the media for additional strength and stiffness. High quality plastisol potting compounds bond the pleat packs to the plastic or aluminum side plates. The S&S (aftermarket engine and carburetor manufacturer) style round filters are manufactured with high-quality plastisol that bonds the media to the wire backing and sealing area.
Superior Filtration
The synthetic nanofiber media featured in AMSOIL Ea Motorcycle Air Filters have sub-micron diameters and small inter-fiber spaces, resulting in more contaminants being captured on the surface of the media and lower restriction. Cellulose, wetted gauze and foam filters have larger spaces between the media that cause contaminants to load in the depth of the filter, resulting in airflow path plugging, higher restriction and lower capacity.