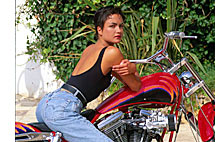 AMSOIL's Specialty Products for Your Vehicle
In addition to creating the finest synthetic lubrication products available, AMSOIL also stocks a variety of quality products to protect and maintain your motorcycle. These specialty cleaners and protectors will help your bike run smooth and look its best. Trust AMSOIL to deliver the complete care your machinery deserves.
Metal Protector
Disperses water and protects metal surfaces from rust and corrosion. Dries completely and doesn't attract dust. Penetrates existing rust build-up and loosens bolts. Also dries wet electrical systems.
Heavy Duty Metal Protector
A heavy-duty spray lubricant fortified with special rust and corrosion inhibitors. It penetrates and adheres to metal surfaces, leaving a dry, long lasting wax-like protective coating. Also works well as an undercoat, preventing rust and eliminating squeaks.
AMSOIL Power Foam
AMSOIL Power Foam improves starting and increases fuel efficiency. Power Foam penetrates and thoroughly cleans the engine's intake system, freeing sticky valves, cleaning dirty spark plugs and removing gum, varnish and carbon deposits from exterior engine surfaces.