AMSOIL Filters and Filtration Systems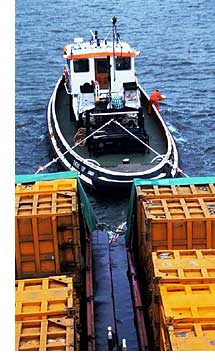 Engine Oil Full Flow Filter
The AMSOIL Super Duty Full Flow Filter offers superior filter life and filtration to that offered by conventional full flow oil filters. Its blend of cellulose, fiberglass and synthetic media and tight pleating optimize small particle capture, total particle capture, media durability and media capacity.
In fact, performance tests demonstrate the AMSOIL Super Duty Filter provides up to 100 percent more capacity than other leading filters, and that increases filter life.
The AMSOIL Super Duty Filter also features an oil pressure relief valve, to ensure continuous oil flow; a heavy-duty drawn case with a drawn steel double-crimp base and rolled under seaming for filter body strength; and an anti-drain back valve to keep dirty oil in the filter when the engine is not running.
Engine Oil By-Pass Filter
Conventional oil filters cannot remove water from the oil circulation. They also do not consistently capture particles smaller than 15 microns. Research shows particles in the 5 to 20 micron size range cause up to 60 percent of engine wear.
The AMSOIL By-Pass Oil Filter, used in conjunction with full flow oil filtration, removes water. It also removes virtually all particles down to one micron in size, and even removes sub-micron sized particles with greater than 50 percent efficiency.
Ultra-filtered oil - like that delivered by the By-Pass Oil Filter - lasts longer and performs better than conventionally filtered oil, and that increases engine life and performance.
Dual Remote Oil Filtration System
The AMSOIL Dual Remote Oil Filtration System pairs an AMSOIL SDF Full Flow Oil Filter with an AMSOIL By-Pass Oil Filter, providing the superior water and small-particle capture of by-pass filtration and top-quality full-flow filtration on one convenient, easily accessible mount.
The Dual Remote filtration system increases the volume of oil in engine circulation, especially when the largest possible filters are installed in the system. Increased oil capacity increases oil life, helps optimize engine-operating temperatures and enhances engine life.
With AMSOIL 15W-40 or 10W-30, the Dual Remote Oil Filtration System and a regular program of used oil analysis and filter changes, gasoline inboard marine engines may never need another oil change.
Dual Gard By-Pass Oil Filtration System
The AMSOIL Dual Gard By-Pass Oil Filtration System, for use in 20-quart and larger engines, pairs two AMSOIL Spin-On By-Pass Filter elements on a handy mount for double-length filter element changes, and easy filter accessibility. It is ideal for working craft with little time available for engine service.