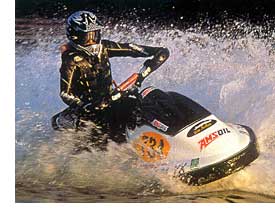 Synthetic 2 Cycle Oils
AMSOIL Synthetic 2 Cylce Oils, available in pre-mix (100:1) and injector formulations, reduce friction and wear, improve throttle response and deliver maximum power. Their clean-burning ashless formulations prevent plug fouling and carbon deposits, delivering quick dependable starts, sustained power and performance with virtually no smoke and emissions, even during prolonged idling. AMSOIL 2-cycle oils contain anti-rust agents for rust inhibition during off-season storage.
Series Dominator Racing Oil
AMSOIL Dominator 2-Cycle Racing Oil retained 17.6 percent more power in lubricity tests run against petroleum and synthetic TC-W3 reference oils. The outstanding lubrication and protection offered by Dominator 2-Cycle Racing Oil to two-cycle engines subject to the flat-out performance demands of racing minimizes power-robbing friction and prevents piston scuffing and seizure.
Dominator 2-Cycle Racing Oil also burns much cleaner than conventional two-cycle oils, ensuring engine cleanliness and maximum performance.
Dominator 2-Cycle Racing Oil outperforms manufacturer-recomended two-cycle oils and may be used as a replacement for them.
AMSOIL HP Injector Synthetic 2-Cycle Oil
AMSOIL INC., a pioneer in the development of synthetic lubricants, has over 25 years of experience engineering and producing synthetic two-cycle oils. AMSOIL HP Injector Synthetic 2-Cycle Oil reduces friction and wear for improved throttle response and maximum power. Its ashless formulation prevents plug fouling and the build-up of harmful carbon deposits. AMSOIL HP Injector Synthetic 2-Cycle Oil provides excellent cold temperature performance and prevents the formation of gummy residue for quick, dependable starts. AMSOIL HP Injector Synthetic 2-Cycle Oil exceeds TC-W3 specifications and is compatible with other synthetic and petroleum TC-W3 type oils.